Established in Easthampton in 2001, Big Red Frame provides creative and conservation quality custom framing solutions to homes, businesses, institutions and the arts communities of Western Massachusetts and beyond—from NYC to the Berkshires, Northern Connecticut to Southern Vermont.
Jean-Pierre Pasche
Owner
Jean-Pierre Pasche, native from Switzerland where he ran his first custom framing business from 1987 until moving to the USA in 1997, opened Big Red Frame in Easthampton in 2001. He moved his business to Easthampton's Old Town Hall in 2007, where he was able to expand and open the Elusie Gallery He is the co-founder of Art in the Orchard, an award winning biennial outdoor sculpture exhibit set on the bucolic grounds of Park Hill Orchard, also in Easthampton. Pasche also sits on the board of CitySpace, the non profit organization that manages Old Town Hall, as well as the Public Arts committee of Easthampton City Arts.
Rachel Ciecko
Framer
I'm Rachel, assistant to Jean-Pierre. I have been a framer at Big Red Frame since 2015, and hold a double major in fine art and psychology. As an artist who has worked in various mediums, working as a custom framer fuses many of my passions. I find it fulfilling to design the "home" for art, then physically create an archival environment for it to shine in. Framing is an investment that not only protects your art—it is an art within itself.
I make my living providing Art Advisory Services to the insurance industry and as an Art Dealer. Whenever I need custom framing done – be it this rare suite of Warhol serigraphs of Muhammad Ali, or my daughter's first grade masterpiece – it will be handled by Big Red Frame in Easthampton. We are so incredibly fortunate to have a resource in our backyard that consistently produces framing results that rival the work I have seen from top frame shops in NYC, and at a cost that is far more reasonable than at these City businesses.
I find Jean-Pierre and his assistant Rachel to have a great eye and sense of design, expertly assisting with frame and matting selections that befit the individual artwork and enhances the appeal and visual impact of the finished products. I have had Big Red Frame work on many projects over the years, both for myself and my clients, and have been exceptionally pleased with the finished product each and every time.
Tom Kirkpatrick
Contents Consulting LLC.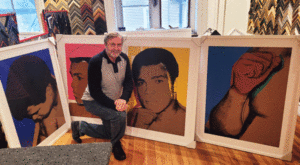 Wow! 20,000 frame orders. Congratulations Jean-Pierre. That is a lot of work. You are an excellent framer and I know you still take the time to really listen to your customers and suggest what you think. Your knowledge and patience, plus warmth of personality is what keeps you in Business.
Just think I was one of your very first customers when you started out!
Marcia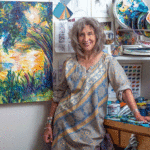 Thank you again, Jean-Pierre and Rachel, for your beautiful work. The framing has deepened the affection I have for these sentimental pieces.
Grateful, Pamela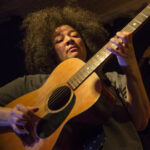 As a dealer in high-end antique maps and prints, I need to work with a custom framer I can trust. I have used Big Red Frame's services for a large number of framing projects over the past 16 years, and I have always been delighted with Jean-Pierre's workmanship, taste, and high level of customer service.
Thank you, Jean-Pierre, for always doing an incredible job. I will be coming to you for all my crazy framing needs. Hopefully very soon for some large drawings. I also have a couple ideas for framed pieces that will probably become a kind of collaboration with you. I hope you're ready to push the envelope a bit.
On behalf of the Holy Rosary Sodality, I would like to sincerely thank you for the wonderful work that you did on the framing of the Black Madonna. It is truly beautiful in its elegant simplicity, which enhances this priceless icon and complements it. May God Bless you for your hard work and dedication.
I have entrusted Big Red Frame and Jean-Pierre Pasche with everything from small conservation jobs to creating new large custom gilded frames, and I have never been less than completely pleased with the results. The craftsmanship, taste, and professionalism are first rate in every sense.
I've used many framing services in the valley and Big Red Frame is by far the best. Excellent service and impeccable work. I really appreciate the relaxed atmosphere and JP's willingness to give me all the time I need in which to select the right frame. Highly recommend.
Over the years, my wife & I have had a number of pictures, paintings and posters framed by Jean-Pierre at Big Red Frame. His work has always been top-notch. He's extremely helpful when it comes to selecting mats and frames, of which he has a great selection, as well as helping with the styles of framing (shadow box, double mat, museum glass, etc.) that would work best with your particular project. Highly recommend!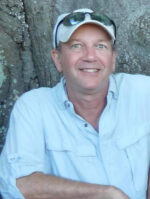 Excellent framing work, timely completion, good pricing and very helpful assisting with framing, mat and glass selection. We've had a half dozen items framed there, been very happy with them, and I'm going back tomorrow for two more.
Follow up: So it's 6 months later and (just to show that the above review wasn't a one-off) I went back today for another framing job. No regrets or hesitation.
To start with, Big Red Frame has an incredible selection of frames, and Jean-Pierre and Rachel are both so helpful in picking the right mats and frames for any project. I've had a number of things framed, and each and every one is so stunning! Good framing makes all the difference! Every corner is perfectly joined, and the end result makes even a $50 print look priceless! Highly recommend!!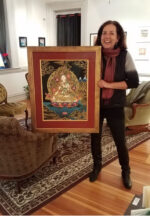 Amazing quality! So friendly! Gorgeous space. Each time I go in, I see inspirational works of other artists who clearly trust Jean Pierre to handle their stuff. Worth every penny!